REVIEW: Michael Green Designs Studio Chameleon Speakers
audio asylum
"The Studio Chameleon speakers, by Michael Green Designs, are difficult speakers to review because it's difficult finding the "audiophile" words to describe the outstanding sonic characteristics of these speakers and (not quite as) difficult to describe their design principles. First, I'd like to get the design controversy of these speakers out of the way so that I can devote more time to it's performance. As probably most of you know, all of Michael Green's tunable speakers are designed in a manner which is contrary to every other dynamic speaker (that I know of) on the market today. Dynamic speaker design basically falls into two categories or camps. There are those manufacturers who believe that the way to design the perfect speaker is to reduce the resonance of every part of the speaker enclosure (and crossover board) to a minimum, with the use of dampening materials, rigid enclosures and dampened drivers. Michael Green, on the contrary, believes in using the cabinet enclosure (and crossover board) resonance, in a synergistic way, to compliment the resonance of the drivers. You can agree or disagree with either approach, but it's really the result of the final performance of the speaker which counts and both designs can produce credible results. In a word, the performance of the $15,000 per pair Studio Chameleons is superlative.
As I said, because of the difficulty to find words in today's "audio vocabulary" to describe the sonic characteristics of these speakers, I will first describe some of the design aspects of the speaker which lend to their "indescribable" sonic nature. First the speakers are designed from aged cherry wood and consist of four outer component parts -- the two tower enclosures with the mounted drivers and two outboard crossover racks, one for each of the towers, made of solid cherry hardwood. Speaker connections are made via metal screw terminals on the rear of the outboard crossover boards (no bi-amping nor bi-wiring -- Michael Green feels this is not the way to design a speaker and is an unnecessary cost to consumers). All edges around the speaker consist of hardwood. Umbilical cord solid core wires from the crossover racks then connect to the drivers inside the towers. The speaker consists of two drivers -- a silk soft dome tweeter and a heavily modified Kevlar 8" driver. The overall dimensions of the speaker cabinet towers are 41"H x 17"D x 11 ½"W, resting on all solid hardwood bases which are 13 ½"W x 18 ½"D. On the outer side surfaces of each tower are four "tuning" bolts (two per side) whose functions I will describe later. "Inside" the cabinet there are two additional "tuning" bolts, again, whose functions I will describe when I talk about the speakers performance. Implementation in design of these speakers is consistent in all component parts -- not only do the cabinets have no damping materials, but any damping materials are also removed from the drivers (except for the surrounds). The outboard hardwood crossover racks consist of two boards per rack with four support steel rods -- they look like miniature Michael Green Designs Justaracks (electronics are on the lower board only), but the base hardwood boards are thin and the dimensions on mine are 18 ½ "D x 11 ½"W. The overall height of the crossover racks is approximately 8" off the floor and have brass cone MTD resonance tuning devices for feet, steel rods and brass caps on the top board. The crossover racks can be "tuned" also by the tightening or lossening of the support bolts on the crossover boards, but you do not want them too loose. The electronics are mounted on the lower crossover board and no hot glue (or dampening) is used, just like the design of the tower cabinet enclosures.
The finish on the Studio Chameleons is either Natural Cherry or Heritage (a dark cherry), at the purchaser's discretion. The fine satin finish (on both the cabinets and the crossover boards) is not overdone to the point where the wood is sealed totally from exposure to outside air in order to allow the cabinet to "breathe" and "age" properly. But, the cabinets are finished inside as well as outside. It's an interesting phenomenon to watch your speakers get more beautiful month after month, as the wood ages, and the grain comes through the wood more and more. This aging process adds not only beauty to the wood, but also the harmonics, which the cabinets are capable of producing, increase with the aging process. Therefore the sonic performance capabilities of the speakers increase over time. Initial break-in is about two to three months to the point where the user can begin "tuning" the cabinets with the tuning bolts, but the speakers do not fully come into their own for a period of five years. In other words, this is one speaker which gets better with time. The "claim" to making their speakers like fine musical instruments is not just "words", but fact. I've owned a pair of their Studio 5's now for two years and I can attest to the fact that they sound better today than when I first purchased them -- they sound richer and more musical as time goes by.
The Studio Chameleons, just like all of the MGD speakers, are voiced by ear ONLY from recorded music and are manufactured on a custom basis for each customer. As a matter of fact, if you supply details about your room (building materials like wood, sheet rock, gypsum, concrete, etc.) and system, the speakers can be custom built to the sonic preferences that you describe to MGD. And at this price, I would recommend anyone interested in a pair of Studio Chameleons to spend the time with their hotline discussing your listening preferences and providing details of your room/system. My Studio Chameleons were also custom installed by MGD. Although I happen to have a fully tunable (racks, components, acoustical products and speakers) system designed by MGD, it is not necessary for anyone to also have a fully tunable system to appreciate these speakers or think that they may not perform well in a system which is not fully tunable -- quite the contrary, because of their "tunabilty" which is built in. The speakers are very efficient and are easily be driven by my 100 wpc Monarchy Audio SE-100 Delux monoblock amps with ease.
During the initial break-in period, it is always best to break in any of the MGD speakers with the tuning bolts in the "open" (fully counterclockwise) position. This will allow the cabinet walls to "flex" and break in faster (and properly). You will know when it's time for fine tuning with the tuning bolts. Basically, the top most tuning bolts adjust the mid and upper frequencies and the lower tuning bolts adjust the lower bass frequencies. The two tuning bolts "inside" the cabinet actually reside inside a mass loading chamber, which may be mass loaded with five to eight pounds of lead shot or sand (I prefer lead shot because I think lead shot sounds better when used for mass loading, but that is a personal preference on my part and I am using NO mass loading to date). By adjusting these two bolts "inside" the cabinet, it allows you to adjust the mid bass (you can actually change the "pitch" like you would by tightening the skins on a drum) without adversely affecting the lower bass or the midrange. Even after break-in, if it is necessary to adjust any of the tuning bolts, the tightening should be more on the "snug" side, at the most, versus "tight". Severely over tightening the tuning bolts can yield a "deadening" (shortening of the decay time on notes) of the sound because you would be restricting the cabinet from resonating, which is one of the necessary principles of operation which make for this speaker's outstanding performance.
I truly am at a loss for words in describing these speakers performance because they do not develop harmonic structures like any other speaker that I've ever heard. I hate to use terms like "perfect" (I know there is no "perfect" speaker), but that's what imaging, soundstaging, harmonic structures and overall coherence of sound appear to be. The sound of these speakers is as close to live as I have ever heard from a home reproduction system.
Recently, I was in the high end piano department of a music store and although the sign said "Ask the salesman for assistance", I was tempted to strike a few notes. Upon striking a few notes on a $40,000 piano, what I noticed was the same quality of "sparkle", richness of harmonics, proper decay of notes, development of the individual note that I was hearing on my Studio Chameleons. I also tried this same test on as many instruments as possible -- same result. This is why I said it's difficult to come up with words to describe these speakers. Since the age of 5 where I first learned to play the piano and had my first solo concert at the age of 6, I have been formally trained in four musical instruments, played in the orchestra throughout my youth only (regrettably today) to give it up because I wanted to play baseball, basketball and football more. But, every instrument in recordings (including commercial ones for the most part) is reproduced by the Studio Chameleons in the same way that notes develop when you hear them live (or as close as can be reproduced today in a home system environment). The harmonic structures are all in tact, the layering of instruments (as well as their individual ability to construct their different note structures) during complex musical passages is unsurpassed by anything I've heard in a speaker to date. But, let me add that I am not in the music nor audio industry, so I have not heard all the conventional speakers out there and I know there are many fine conventional speakers on the market and fine conventional playback systems. I think testimonies, in forums like this and others on the Internet, from everyday users can attest to just how far speaker technology has come and that there are many fine conventional speakers from many different manufacturers on the market. Whether the Studio Chameleons are for you will be a personal choice. But, in order to give them a fair listen, I would suggest a trip to Michael Green's facility in Ohio and take a listen in one of his tunable rooms at his "Tune Villa" which is a state of the art facility which will have a live amphitheater, a "variably tunable" recording studio, tunable listening rooms and manufacturing facilities for the speakers. I have not been there, but I am planning a trip later this month to gain more knowledge on system tuning, first hand. The Studio Chameleon speakers will reproduce cymbals, bells or other high frequency notes, that will send chills through you, with the sparkling harmonics that are reproduced. The midrange (voices and other instruments) is reproduced with naturalness and no mid bass influence. The deep bass, especially plucked or using a bow, is rich (and tight at the same time), sonorous and so easy to follow. The speaker is capable of going down into the mid to low 20 Hz region. All I can say is that if you get an opportunity, have the funds ($15,000) and are looking for a top notch speaker that you will not have to "trade-up" for many years to come (if at all), I'd consider the Studio Chameleons as a solid choice for the best of audio systems available, regardless of price. This speaker has my highest recommendation and, if anything, I've probably shortchanged it on any praise I've given it."
__________________________________________________________________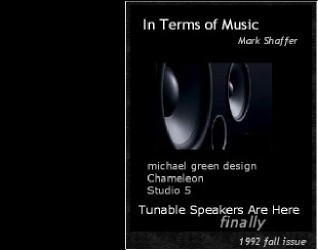 "You might think you know Michael Green "acoustical guru", but you haven't a clue till you own a pair of his speakers. That's right I had to buy my review set. There was no way I was letting these go. One must ask themselves "how do I review another speaker after owning one that tunes"? I will be asking myself this everytime I review a pair that is not tunable."
___________________________________________________________________
Audio Review Magazine
"After reading the positive reviews about the Michael Green Revolution 60i series speaker, I decided to write this review on Michael Green Designs (MGD) tunable Studio 5 Monitors and their 10" Tunable Subwoofer. First, I would like to make clear that the close-out speakers currently being sold by Audio Advisor, noted as the "Revolution" series, are a level below the performance of the current versions of all of MGD's speakers. All speakers in the current product line are custom built. The successor to the Rev. 60i is now known as the Classic 60 and the successor to the Rev 5i is the subject Studio 5.
MGD products are not built on an assembly line, as are most other manufacturers'. In addition to the unique feature of user variable tuning of their speakers, all of MGD speakers are built like musical instruments. If you look inside of any of the MGD current line of speakers (i.e., through the port), you will see that there is no damping material inside and that the enclosures consist a combination of high quality wood veneered MDF and hardwoods. There are no synthetic materials used in the enclosures (i.e., when was the last time you saw a piano, violin or classical guitar made of polymers, vinyl or even concrete materials). MGD's approach to loudspeaker design is to make loudspeakers like Stradivarius violins which will sound better with age as the fibers in the woods refine over the years. This philosophy also applies to MGD'sacoustical Pressure Zone Controllers and racks. How do I know all this? Well, I've had the opportunity to have many discussions with the MGD technical support staff and MIchael Green himself on many occasions for a little over a year and a half now on the MGD Technical Support Hotline as a customer. I also have purchased and own the original prototypes for the current Studio 5's (the curent Studio 5's have some of the same technology as the MGD top of the line Chameleon speakers and will outpeform my prototypes)and the first 10" Tunable Subwoofer that was made as part of the current line. Both are finished in hand rubbed dark red cherry wood and both are variably tunable by the user. The Studio 5's reside on MGD stands which are finished in glossy black lacquer, filled with 2/3 lead shot and mechanically grounded by MGD brass points.
The Studio 5's are only a foot tall, 6" wide, 10" deep and house a 5" midrange/woofer driver, a dome tweeter, a brass variable tuning bolt on each side panel and a rear port. When placed properly as recommended by MGD, these small speakers provide a huge soundstage, precise imaging with excellent depth and an amazing amount of bass energy. I have measured a usable 32 to 35 Hz in my listening room. The Subwoofer contains one 10" driver, has one tuning bolt on each side panel of the enclosure and is rear ported. With the Subwoofer, which is a passive design and requires an external crossover and a mono block amplifier, I have measured down into the 20 HZ plus region. Because both the Studio 5's and Subwoofer have user variable tuning, these speakers can be tuned to any room in which they are placed. The tunability feature raises or lowers the pitch (i.e., cabinet resonance) of the speaker )similar to tightening or loosening the strings on a violin) and, in turn, increases or decreses the amount of harmonics produced by the speaker. So, these speakers can be tuned to the room, listening level and preference of the listener. The "thwack!" of a bass drum produced by a variably tuned subwoofer has to be heard to be believed, because the impact and pitch control produce perfect decay time (especially if you are also using MGD Pressure Zone Controllers for acoustics). Over the years, I have owned monitors from B&W, Celestion (including the SL600's), Infinity and the Sound Dynamics 300ti (Harry Pearson's acknowledged favorite bookshelf speaker). No monitor speaker that I have owned or heard even comes close in neutrality, perfectly pitched instruments and voices, or a more musical presentation because of the user's ability to variably tune the MGD Studio 5's and Subwoofer.
When used as a "system", using MGD acoustical Pressure Zone Controllers (these allow variable tuning of pitch and associated harmonics produced by the speaker/room interaction), the mechanical grounding MGD brass MTD's (Mechanical Transfer Devices) and the mechanically grounded racks (these allow the ability to variably tune electronics through a technique called "clamping"), every component of my system can be tuned, including the room! This allows me the ultimate flexibility in controlling the type ofsound which I prefer to listen to - the sound of real music. The room not dictate the sound. My system and room work together through this variable tuning "system" approach.
As you have probably surmised, I like the Studio 5's, the Subwoofer and the other MGD products, not because of any blind bias, but because they work. Over the years, I've tried many other devices for tuning, but their big shortcoming was that they were factory preset tuning devices like Tekna Sonic speaker vibration absorbers, aluminum, polymer and stainless steel cones, the Bright Star isolation system products, the Seismic Sink, the Mission Isoplat, ASC traps, the highly touted Argent Room Lens and several racks. None have come close to the flexibility and performance of MGD's user controllable variable tuning products."
___________________________________________________________________
___________________________________________________________________
Audio Review . com
"The Chameleons are the best sounding speakers I have owned. It is difficult to decribe. They have a "presence" that produces musical realism better then any other speaker I have heard. The musical presentation is as real to live as I have heard in a home system. The SS is huge and deep. Detail within the stage is excellent. Instrument/vocal placement and tonal representation within the stage is spot on.
So much care is taken into the manufacture of these speakers. They are custom built to order. Michael Green personally supervises/participates in the voicing of each pair of Chameleons. He will not release a pair of Chameleons until it meets his personal standards. He considers the Chameleons "his babies". The cabinets are furniture quality.
At first glance the price of the Chameleons may look steep. However, on a price vs performance basis, they are a bargin.
Michael Green is often subjected to ridicule by the Audiophile establishment. His methods are so different then the commonly accepted audiophile practices. But his results are undeniable. I have done it both ways. I'm not going back."
___________________________________________________________________
___________________________________________________________________
Audio Review . com
"I am writing about Revolution80i not 60i.These speakers have soul.They are not your typical audiophile things.On well recorded acoustic material they do remind me of the sound of real instruments and I know what it is;some years ago I heard Paco De Lucia(the greatest flamenco guitarist) play.If you eliminate the resonance the sound will have no life,and the speakers are allowed to resonate.But do not turn the volume up too much.They are not for big rooms and parties.Loud is one thing,insanely loud is another.The sound is emotional,powerful,natural,dynamic;bass is very good for the size.Soundstage is the way it should be,not bigger than life.Excellent for vocals,guitar music,violin.Very good for jazz,jazz-rock,blues,folk-rock,rock.Great, original job indeed.I use C.E.C 5100z cd-player,Audiolab 8000LX integrated(60 watts per channel),Cardas Quadlink5 cables throughout.Get them if you can."
___________________________________________________________________
___________________________________________________________________
AudiogoN
"I mean something that you may not exactly need or/and cannot quite afford but still within reach, so if that piece comes up for sale, the price and the seller are right you would buy it because you really want to?
For me it would be Michael Green Audio Chameleon speakers."
___________________________________________________________________
Jason Serinus reviews Raudio Chadwick two-way, floor-standing speakers
note: MGA Chameleon used as comparative reference
Introduction
When our faithful Secrets reviewer Paul Knutson attended the 1999 CES, he made a special effort to check out small manufacturers. Often, such inquiries lead to discoveries of wonderful products manufactured by companies that lack the PR budgets and other resources necessary to obtain high profile reviews.
One of the many fruits of Paul's searches was obtaining a pair of Raudio Chadwick two-way, floor-standing speakers. Because my room is better equipped than Paul's to handle larger speakers, Paul offered them to me for review.
I was quite excited to receive the Chadwicks. Though I've performed several modifications to my reference Michael Green Chameleon III speakers, they have been my sole reference for many years. Because the Chameleon's sound changes greatly when one makes even subtle alterations in their tuning, I have been longing to try non-tunable speakers in my system whose sonic signature remains constant.
I've now had several opportunities to audition the Chadwicks with my Pass Aleph 5; the new Pass Volksamp 30 (Aleph 30); the previously reviewed Bruce Moore 70 amp, this time equipped with truer-sounding Svetlana KT-88 tubes; and the ART Audio Concerto amp (sounding, in my opinion, much better with the Svetlana KT-88 tubes than with its stock KT-90s). Preamps were variously tubed Bruce Moore Companion III and the solid state McCormack RLD-1 (a dream with remote control, review forthcoming). The rest of my system was as outlined at the end of this review.
Description
The speakers arrived from Hong Kong in incredibly impressive, fully lined, padlocked metal shipping cases. It took both the gym buffed Paul and a friend of his built like a football player to get the cases up my three flights of stairs.
Even more impressive is the look of these speakers. The gorgeous enclosures I received are made of quality MDF, veneered with selected walnut and  finished with several layers of polyurethane. It seems that intensive labor is required to polish each layer, using a process similar to that employed with "piano finishes." The result is a speaker so shiny and attractive that I was concerned that the parakeet I was birdsitting would land on the speaker, think – to the extent birds think – that it was seeing another bird in its reflection, and start pecking away at the enclosure.
One curiosity of the design is that the woofers are ear level (at least for someone my height sitting down), while the tweeters are more like chest level. My experience of how this affects the sound will be discussed later in this review.
I am not a whiz with technical matters. My forte, as explained in my other reviews, is music and sound. As a CD and performance reviewer, I attend live, mostly unamplified concerts on a weekly basis, sitting in different places in different venues. I trust my ears, and my sense of what "natural sound" is about, even as it varies from the first row of a small house to the upper balcony of a large symphony hall.
Listening
I put the Chadwicks in roughly the same position as my Chameleons, spread far apart in my 14.5' x 17' foot listening room, with the center front of the speakers approximately 8.25 feet from the rear wall. Speakers were toed in so that the tweeters fired slightly to the outside of my ears.
My initial impression was how quiet and clean the Chadwicks sounded. In less than a minute, however, I began to realize that this clean sound translated into a monotoned leanness.
The Chadwick's particular sonic signature remained consistent from recording to recording. On the new Harnoncourt authentic instrument recording of Haydn's opera Armida, there were times in the Overture when the period instrument violins sounded more like little buzz saws than beautiful instruments. The incredible Cecilia Bartoli sounded okay, but the body of her voice that I have experienced live on four different occasions just wasn't fully there.
On mezzo-soprano Susan Graham's exquisite recital of songs by Reynaldo Hahn, La Belle Epoque, there were times when the grand piano accompanying her sounded more like an upright. There was also a slightly metallic, reddish coloration to her voice. It was not that this tint was irritating; it was simply a sound that was neither musically accurate nor especially pleasing. (In the last year, I have heard Susan Graham both from the first row of a full recital hall, toward the back and side in the same hall when it was empty, and from the side balcony of the San Francisco War Memorial Opera House. Nothing I heard sounded like what her voice sounded like through the Chadwicks. Especially missing was the sense of liquidity and ease that can be heard when the entire tonal envelope is given equal weight).
When I listened to my favorite "Blues No More" track on Terry Evans' JVC-XRCD Puttin' it Down, the lack of resonant body on drums was especially apparent. So too was another failing. Everything sounded a bit slow and laid back, as though Terry and his musicians had indulged in some strong weed and were feeling too mellow to deliver the sharpness of attack that the music deserved. When drumsticks sound like they're made of rubber, either it's time for the listener to check if someone has spiked his drink, or it's time to make some changes to the system.
Disturbed by what I heard, I e-mailed Raymond Chan to ask about ideal speaker positioning. It turned out that while the speaker distance from my rear wall was just about what he would recommend for my room, he felt they should be aimed either straight ahead or toed in slightly, depending upon coherence of the soundstage. He also urged me to remove my Michael Green audiopoints and replace them with the wood cones he had provided, positioned in a scary tripod configuration beneath his heavy speakers.  
I did exactly what Raymond suggested. While the speakers were over 9' apart, and angled in just a bit, the soundstage remained coherent. Such positioning, I discovered, works fine for a listener seated right in the sweet spot, but it is not good if two or three people are trying to share a futon. In that case, greater toe-in results in less single speaker source localization for the listeners seated on either end of the futon.
Because the tweeters were aimed nowhere near my ears, I did find that the highs were a bit more acceptable. I also found that the soundstage width increased. But I did not experience a significant increase in either midrange or depth. The basic tonality of these speakers did not feel right.
I am not one to lightly dispense negative opinions, especially when it affects someone's ego, livelihood, and design philosophy. I therefore decided to switch back to the Chameleons as fast as I could, do my demagnetization and break-in tone ritual, and listen to the exact same music. This is no easy task for a short man with a post-auto accident back, but I accomplished the move within 15 minutes. For the heck of it, I decided to angle the Chameleons just as I had angled the Chadwicks, and to support them with the same wooden cones.
on go the MGA Chameleon
The difference between the speakers was most striking when I played solo pianist Murray Perahia's 1999 Gramophone award-winning CD of Handel and Scarlatti. First of all, the piano was set farther back, with a sense of air and space around the sound that I find exciting. After all, I am in a living room, not in Berkeley's Hertz Hall. If I can't experience the excitement of a live performance, then I want something sufficiently engaging sonically to justify me spending so many thousands of dollars on speakers and other equipment rather than on concert tickets. I do not want my system to sound like a "super good hi-fi." I want it to sound thrilling and emotionally engaging.
While my ScanSpeak tweeters are actually a bit brighter than those in the Chadwicks, they are capable of a far more refined sound. There was a delicacy to Perahia's pianism, an exquisite softness of touch, that I had missed with the Chadwicks. Susan Graham, too, seemed a far more sensitive singer. I know from hearing her live that Graham sings from her heart. This I could feel with the Chameleons; the softness came through as well as the strength. And, because the Chameleons seemed more responsive to changes in dynamics, they also seemed faster and more exciting.
The big test was the Terry Evans CD. Here, I experienced far more depth of instruments, and far more space between and around them. Timbre was also truer, cymbals sounding like cymbals rather than something edgy and metallic; the drums again had a resonant body as well as a skin. What especially struck me was how Ry Cooder's guitar seemed to have resonant strings. There was just more body and depth to the sound. Everything was rounder, fuller, and more sonically convincing.
I must say that the Chadwick's woofer seems more seamlessly integrated with the tweeter than the woofer and tweeter in my Chameleons. There is no "hump" as the piano descends into the lower regions. But, then again, with less of a midrange to begin with, there is less opportunity for a "hump" to be heard.
Tweeter Below Woofer
As mentioned above, one curiosity of the Chadwick design is that the tweeters are below ear level. This results in a soundstage lower than what I am accustomed to hearing. It raises some when the speakers are pointed nearly straight ahead, but it is still lower than with the Chameleons. At one point, when the speakers were toed in and I had guests over, we experimented with sitting on the floor rather than on my futon. Although this change did not boost the midrange, it did result in a more natural sound perspective. Perhaps these are speakers for Lilliputians or for folks in cultures where sitting on the floor is the norm. For those who choose to sit on couches on chairs, the sonic perspective may come up a bit low.
Conclusions
I conducted several listening sessions with the Chadwicks. I used four different amps – five if you consider my tube change in the ART Audio Concerto – and two preamps. I also tried different cones beneath them, and different amounts of toe-in. In every instance, I found myself dissatisfied. Though these speakers certainly have their strengths, they do not deliver the convincing musicality and visceral excitement that I demand from an audiophile system. How they would sound with a better tweeter – I changed the tweeter in my Chameleons from one ScanSpeak model to another – or with different internal wiring – I changed mine to Nirvana, as I did with the wiring in my preamp – I do not know. But I am convinced that the choice of tweeter and its position in the enclosure represents a definite sonic limitation to the Chadwick sound.
The Chadwicks are beautiful speakers with a unique design. Visually, they are an asset to any listening room. Sonically, they will probably mate best with systems that exhibit recessed treble and overabundant midrange and bass. Those with well-tuned, sonically balanced systems whose components and wires are in the price range that warrants spending $7800 or more on speakers, may not find everything they wish in the Chadwicks. "
___________________________________________________________________
AVS on Chameleons
"My point is that excellent results can be had by implementing just a few of Michael's designs and recommendations. As Michael has always told me..."just go as far as you want". The problem is that with every step, with every improvement, you want more.
There is also relatively unknown medical industry benefit of using MGD Chameleons, designs and concepts. It is a cure for lock-jaw. Every time I have someone over to listen to my system, I have to pick their jaws up off the floor!"